J-ROCK
NEWS
THE GAZETTE
THE GAZETTE ANNOUNCEMENT| WORLD TOUR16 DOGMATIC TROIS
1:50 PM
OFFICIALLY ANNOUNCED: JANUARY 7, 2015 Let me say: OH MY KAI SAMA... IT IS HAPPENING!!!! ((xOx))      Ever since around last month, Dece...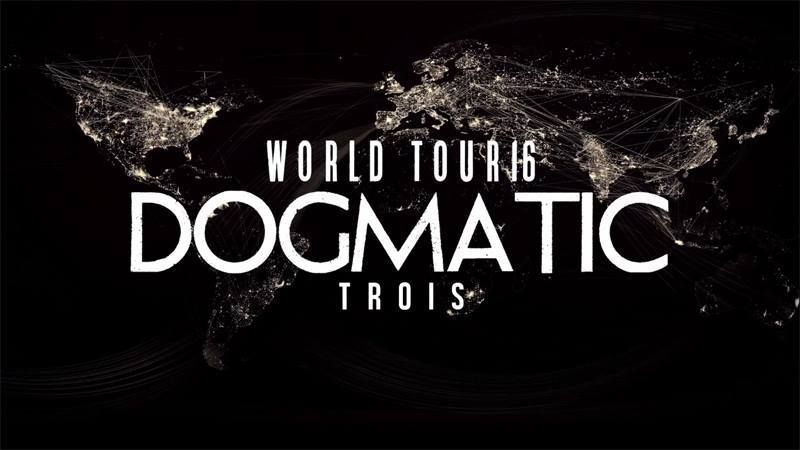 OFFICIALLY ANNOUNCED: JANUARY 7, 2015
Let me say: OH MY KAI SAMA... IT IS HAPPENING!!!! ((xOx))

Ever since around last month, December 2015, there have been rumors floating around about a possible GazettE concert in America. How did this rumor start? I guess you could say it was because of an accident?
The Rumor:
Gazette fans that were followers of the app and website BANDSINTOWN got a notification saying that The GazettE will be having a concert at the Regency Ballroom, San Francisco on Sunday May 1, 2015. This confused fans, because there was no official mention of such concert by the Gazette's management. What was more confusing was that in the official website of Regency Ballroom, there was in fact a webpage about The GazettE's San Francisco concert. Fans all over the internet started asking questions on social media sites like twitter directly to the band members, then more fans got to know about this.
Actually, I experienced this first hand. It evening time and I was at Disneyland on December 19th when my sister forwarded her screenshots about the possible GazettE concert in San Francisco. I was ecstatic! However, just like everyone else, I wondered when this was going to be officially announced or if it was just some sick joke to make North American fans hopeful for nothing.
I admit, I'm probably one of those people that helped circulate the rumor, but that is because I wanted answers. Eventually after probably 2 days, Regency Ballroom took down the GazettE SF concert info webpage from its website. Only doubts and confusion remained.
A few days after the New Year 2016, yet another rumor surge arose. The event and ticket website, Livenation posted up their event page of The GazettE concert in Toronto, Canada in April. First it was San Francisco, then it became Toronto? That was hint at their upcoming monster tour.
Not long after, but long enough to make some people doubt the tour, The GazettE's official FaceBook made the official Announcement.
Like, dude! Coulda fooled me! Overall, as soon as I saw this the first thing that I woke up that day, all I felt was relief. We weren't crazy. Freakin trolls, my heart can't all take that teasing.
The Announcement:
See trolls! Did you see that?! They freaking erased "The Finale" and added a dozen more movements like... Yeah I thought it was hopeless, then they ninja'd all like that, ughhh.
From the
GazettE Official Facebook page
:
the GazettE world tour 2016...is now official!!!

the GazettE is currently on the road touring nation-wide for their latest album - DOGMA.
But who in their wildest imagination would have foreseen their "DOGMATIC" scenery would eventually spread across the sea? Well, believe it or not, it is happening!
The band has just announced their next tour: the GazettE WORLD TOUR16 DOGMATIC -TROIS-


Shows will be held in territories across the world, from the Americas, both north and south, to the Far East, and finally, the European continent.

With their latest announcement for their next release: single UNDYING, all 13 movement will come to its completion as their DOGMATIC MOVEMENT.

This world tour is surely the key to their DOGMATIC MOVEMENT and PROJECT:DARK AGE.
【the GazettE WORLD TOUR16 DOGMATIC -TROIS-】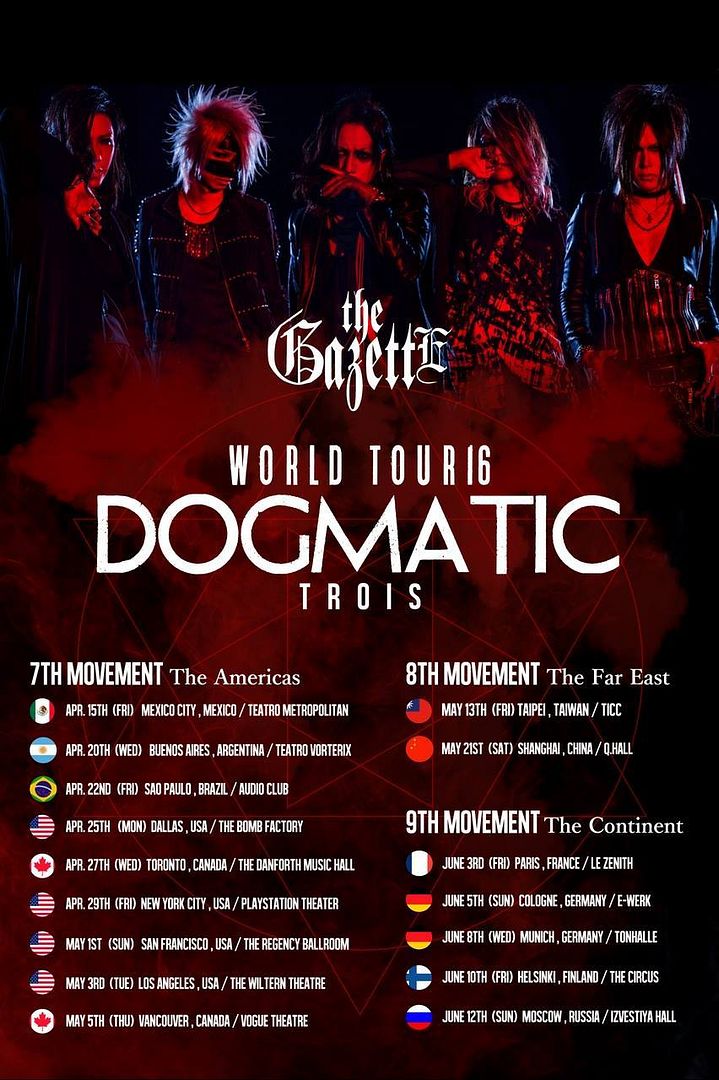 Aaaaaaannnd... San Francisco is also on the map! I'm so happy! I feel so blessed that they are actually coming to a city
near
me! They made everything more convenient for
me
! Buhuhu so happy T_T *happy tears* Haha.
I am most definitely gonna go for VIP MEET & GREET. I can't believe they're even holding
Meet & Greets
, like do they even do that in Japan? (Handshake events I guess).
I've been the biggest fan ever for a while now. The GazettE has made such a huge impression on me and affected my life a great deal in such a positive way, and I'm not missing the chance to see them at least once in San Francisco. What is awesome too is that they're coming to San Francisco on my Birthday month! Hooray for me! Hooray for me tweeting them over the past few years to come to San Francisco! Haha.
Anyone else coming to the San Francisco Concert? I'll see you there! ^_^